April Blog
Spring has sprung, but only just. The cold nights have held things back from exploding into life and as we head towards the end of April the hedges are only half way out.  But it is great to see the flauna and fauna wake up and emerge from its winter slumber.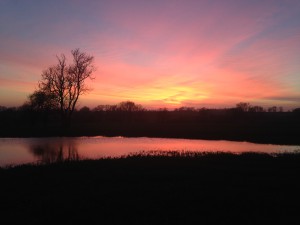 Arable –  it took 6 weeks to complete what should have taken 1 week but last Friday we finished the spring drilling and everything has now chitted and on the way to emerging.  A combination of low soil temperatures and water logged fields meant we had to pick and choose which field to drill first to allow the others to dry out.  We have chosen to drill spring barley for malting and spring beans for human consumption, which gives us some flexibilty when it comes to combining as it helps to spread the harvest from late July (Oilseed Rape) to mid September (Spring Beans) as well as helping with our Blackgrass control.
Livestock – we are nearing the end of calving with only two left to go and 16 calved. With the slow start to spring we haven't turned many cattle out with only the yearlings going out to grass, we hope to turn the cows out at the end of this week or first week in May.  At the end of March we had a little road trip to Derbyshire, Buxton to pick up two Belted Galloway heifers and fulfill a life long wish of Claire's to own some pedigree Belties.
Hay & Haylage – deliveries have started to slow down over the course of April as our customers start to turn their horses out to grass, but many are still bringing them in at night, which has meant we are still busier that usual for this time of year.
To-do List – since the ground has been so wet, we haven't been able to do any grass harrowing or flat rolling on the hay meadows so this is still on the list, as well as putting a bit of fertiliser on the grass to promote growth and ensure better quality in our hay.  On the arable front we need to wash down all the kit that was used to drill the spring crops and service them before the summer – drill, tractor's, press, rolls and tow chain!?  It is also the time of year when the sprayer is used the most in order to keep the crops protected from pest and disease's as they grow rapidly through their growth stages.  At the moment we need to spray the spring beans to protect them from Bean Weevil which is an insect that eats the leaves and causes reduced yield.